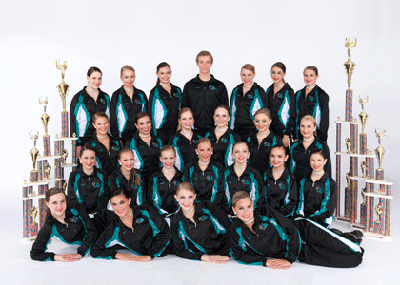 Main Street Dance Company 2012
MAIN STREET DANCE COMPANY
The Main Street Dance Company is the resident company of Suzanne's Main Street Dance Centre. This is a very dedicated, high energy, enthusiastic group of students who range in age from 11-18 years. The company program is to enhance the students' technique, showmanship, ability to work with others and prepare them for a career in dance. This is an award winning company that performs and competes locally, regionally and nationally. Auditions for the dance company are held one a year in the spring (May or June). The company season runs for a full year starting in July.
The prerequisite for company dancers is proficiency in classical ballet, tap, jazz, general performance along with a knowledge of terminology and steps (see receptionist for syllabus). Members of the company are required to take a minimum number of classes per week including Cecchetti Ballet, Non-syllabi ballet, tap, jazz, technique class and company rehearsal. They are also required to attend master class, workshops, performances and competitions through out the year. Dance company members/parents are responsible for all tuition, workshops, competition fees, costumes, travel expenses, etc. This is a working environment for the serious student striving for excellence. Please be aware of the huge commitment required by both the dancers and their families.
Previous and current students have received scholarships to Broadway Dance Center, Steps in NYC, Edge Performing Arts in LA, Cecchetti Summer Ballet Seminar, Interlochen along with being accepted to university dance programs and dance teams. Many of the MSDC Company alumni have gone to successful professional careers in dance and the performing arts with professional dance companies, in the theater, on television and the movies.
If you are interested in AUDITIONS for the dance company, please speak with your instructor or call the dance centre at 248.684.6300
or

click here...
MAIN STREET DANCE COMPANY
*** AUDITIONS ***
Saturday, June 8th - 1:00-3:00pm
Please call for more audition information.

Students 10 years or older with

minimum

of
intermediate level experience in ballet, tap & jazz.
Current students may get the list of requirements at the front desk.
New students may request the list by email.
For more information, please call the dance centre
248.684.6300 or email us at
staff@suzmsdance.com
If you missed the audition date, a private auditions may be arranged.
Please contact us for more details.

| | |
| --- | --- |
| The D Medley 2019 | The D Mix |
2019 TITLE WINNER

Miss Teen On Point

Megan Rutherford



| | |
| --- | --- |
| Meandres 2018 | Waltz of The Flowers - 2018 |

2017 TITLE WINNERS

Miss Teen On Point

Celia Lochkos

Junior Miss Cathy Roe Ultimate Dance

Abigail Werner



| | |
| --- | --- |
| Purple Reign Medley - 2017 | MSDC Mix Tape - 2017 |
2016 TITLE WINNERS

Junior Miss Odyssey

Abigail Werner



| | |
| --- | --- |
| Little Shop of Horrors - 2016 | Can't Stop The Feeling - 2016 |
Miss Teen Michigan Dance USA & Miss Teen On Point - Celia Lochkos



2015 TITLE WINNERSMiss Teen Michigan
Dance USA
&
Miss Teen On Point

Celia Lochkos

Miss On Point

Haley Gray




Miss On Point - Haley Gray
| | |
| --- | --- |
| Circle of Life - 2015 | Birthday - 2015 |
2014 TITLE WINNERS

Miss Teen On Point

Celia Lochkos

Junior Miss Odyssey

Abigail Werner



| | |
| --- | --- |
| Circus - 2014 | Mad World - 2014 |
| | |
| --- | --- |
| Hawaiian Medley - 2013 | Small - 2013 |

Suzanne's

MAIN STREET DANCE CENTRE

is the proud home of the 2012




MISS MICHIGAN DANCE USA 2012


Kylie Brown



MR MICHIGAN DANCE USA 2012




Kaleb Reilly



TEEN MISS MICHIGAN DANCE USA
Alex Hopp

JUNIOR MISS MICHIGAN DANCE USA
Joanna Germane







| | |
| --- | --- |
| Wepa - 2012 | Fever - 2012 |
| | |
| --- | --- |
| One - 2011 | Merge - 2011 |
| | |
| --- | --- |
| Time Warp 2010 | Seasons of Love 2010 |
All rights reserved 2004-2023, Suzanne's Main Street Dance Centre